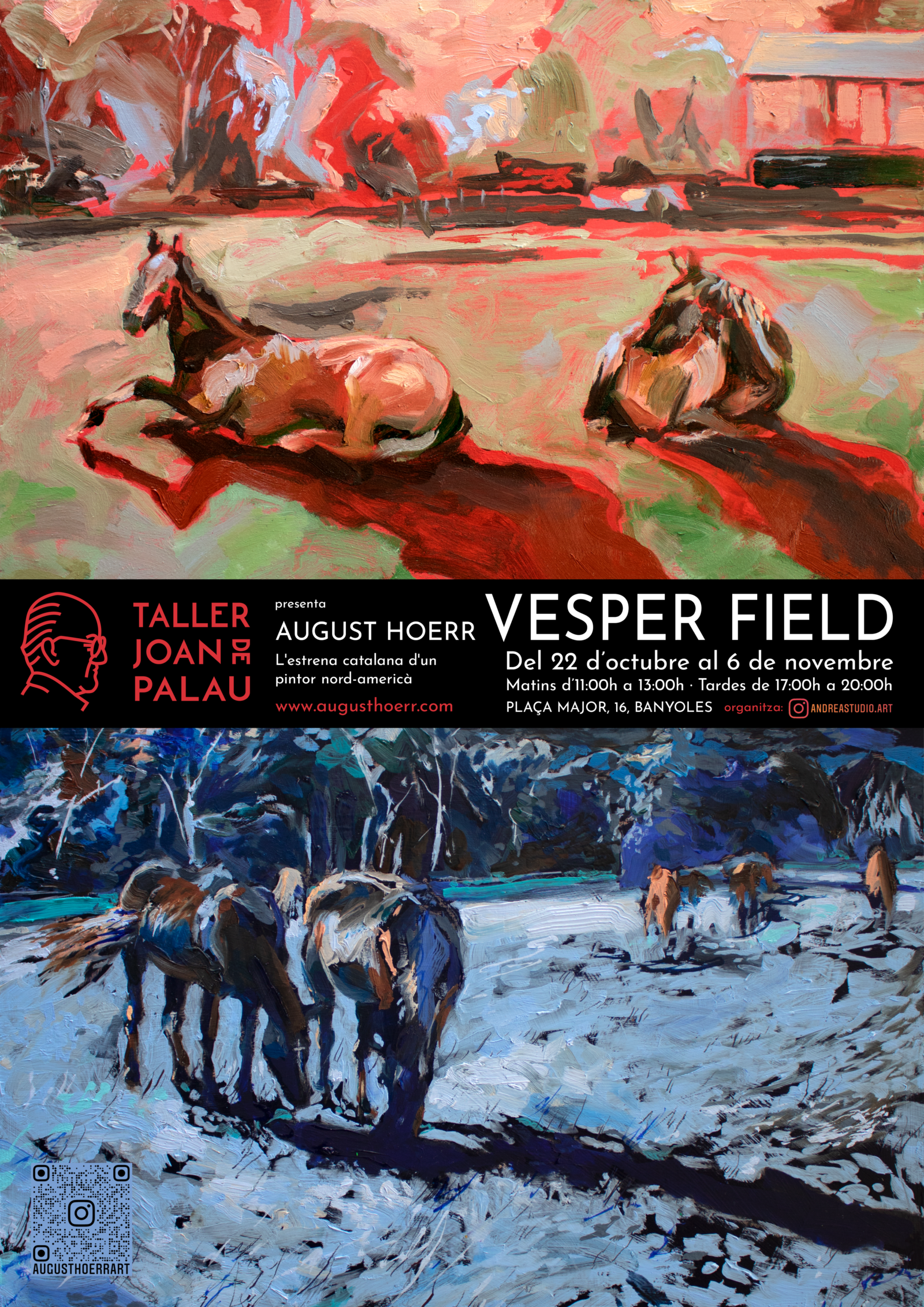 VESPER FIELD, l'estrena catalana d'un pintor nord-americà
L'artista nord-americà August Hoerr presenta el seu últim treball de paisatges equins de Virgínia. L'exposició documenta cavalls en repòs en una pastura al capvespre en el mateix lloc i hora; l'abstracció d'ombres en un sol ponent, i el canvi de colors i del paisatge durant el pas de les estacions. Inclou també una petita sèrie de paisatges banyolins.
August Hoerr viu en la Vall de Shenandoah a Virgínia, i treballa en el seu taller a casa. Va créixer al sud-est d'Estats Units i la seva carrera artística abasta més de 25 anys. Es va llicenciar en Belles Arts en dibuix i pintura per la Universitat de Montevallo. Tot i que ha exposat treballs als Estats Units i al Regne Unit, aquesta és la seva primera exposició individual a Europa. Les dues primeres dècades de la seva carrera fan èmfasi en l'art figuratiu, representat amb un impasto amb pintura a l'oli amb espàtula. Més recentment, ha fet paisatges molt detallistes en grafit i guaix sobre paper. Inspirat en els cavalls d'un ranxo veí, Vesper Field combina la figura i el paisatge, així com el realisme i l'abstracció expressionista.
L'exposició s'inaugura el dissabte 22 d'octubre a les 17:00h i finalitza el diumenge 6 de novembre a les 20:00h.
Artista: @augusthoerrart
Espai: Taller Joan de Palau de Banyoles @tallerjoandepalau
Horaris: Matins d'11:00h a 13:00h Tardes de 17:00h a 20:00h
Organitza: Andrea Carracedo (@andreastudio.art)
Rundgang: drawings and paintings April 2021 at Muse Vineyards
A look back at the past seven years, with impasto figurative painting, liminal nature, local landscapes, realism collided with abstraction, and more.
Artist's talk Sunday April 18, 1:00 pm.
Work on display through April.
for more info https://musevineyards.com/
Video music: The Grieved Soul (ambient), vocals by John Hoerr
Past Events:
Vineblack: drawings in vine charcoal
Muse Vineyards June & July 2020
A socially distanced opening and artist's talk on June 28. For more info:
Preview the show: